About Us
Vending Machines New Jersey, Princeton, Toms River and Edison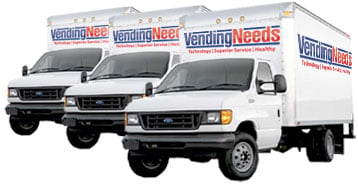 Vending Needs - More than 20 years of vending excellence. Owned and operated by Tri State Vending, Vending Needs was established in New Jersey in 1989. From the moment we were founded, our goal has been to provide business owners and facility managers with quality, affordable vending solutions. And we've done just that.

Our professionalism doesn't stop there. We know that keeping our equipment clean and in an orderly condition reflects on our service. Therefore, we respond to all service calls in a timely fashion. And, for your convenience, our 24-hour voicemail system is available to take your calls...and we'll response as soon as possible.

We are dedicated to investing in the most advanced technologies, because we know that this helps ensure a higher level of customer satisfaction. We're also dedicated to the industry of vending as a whole, being members of NAMA and engaging the latest trends, such as healthier options.

We're your one-stop shop for vending, office coffee, water filtration and Micro Markets. And our goal is to become the one and only company you consider for vending services.
Though we're in the Garden State, we're not your garden variety vending company. See what Jersey's own Vending Needs can do for you. Call 1-800-843-3350 or e-mail info@vendingneeds.com to set up your free, no-obligation consultation.
We service the entire state of New Jersey including the surrounding cities of Parsippany, Princeton, Secaucus, Paramus, Somerset, Edison, Piscataway, Toms River, Hackensack, Freehold, Morristown, Trenton, and all of South Jersey!