Snacks
Vending Machines New Jersey, Princeton, Toms River and Edison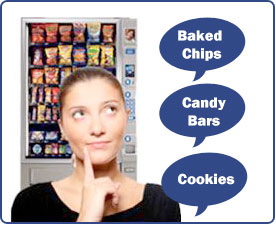 Vending Needs - The snacks you crave. When it comes to providing snacks, our mission is simple. Deliver a wide variety of unique products, supported by high quality equipment and top quality service.

We offer traditional snacks, and healthier snacks and food items, to cater to the more health conscious consumer. This includes chips, cookies, breakfast items and soup. And no matter what your employees want, we can customize your selection any way you like. Furthermore, we are sensitive to customer requests. If we don't have what your people want, we'll attempt to get it — including healthy low-carb products. Even if you don't know what products you want, we'll attempt to find the right selection for you by always flexing in new items. This keeps your selection fresh and interesting.

Speaking of fresh, we always focus on providing fresh, brand-name products. These are the items you know and love. And the selection is huge. Get the brand names you've tried before, and the ones you've always wanted to try.
A Variety of Chips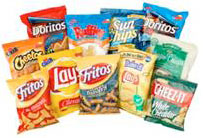 Looking for America's favorite salty snack? We offer an assorted variety of brand-name chips. Baked or fried, and in many different flavors...we've got the crunch you crave.
Assortment of Candy
Or maybe you're looking for something sweet? We have the answer with a wide variety of candy bars. If it's sweet and comes in a bar, we've got it.
Guaranteed Product Delivery

We have infrared technology that can detect whether an item has been vended or not, guaranteeing that your employees, customers and visitors always receive their item...or they get their money back...automatically.
Though we're in the Garden State, we're not your garden variety vending company. See what Jersey's own Vending Needs can do for you. Call 1-800-843-3350 or e-mail info@vendingneeds.com to set up your free, no-obligation consultation.
We service the entire state of New Jersey including the surrounding cities of Parsippany, Princeton, Secaucus, Paramus, Somerset, Edison, Piscataway, Toms River, Hackensack, Freehold, Morristown, Trenton, and all of South Jersey!