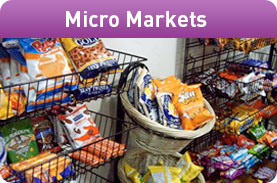 Is a Micro Market For You?
Micro Markets New Jersey, Princeton, Toms River and Edison
Most consumers want the convenience and variety offered by Vending Micro Markets. However, vending micro markets may not work in every situation. First, one must consider the space available for a micro market. Micro markets require an area of around 50 square feet as a minimum. Does you company have such an area. Depending on the products you wish to have in your micro market (how many, which ones) more area may be required.
Does your company have enough employees to justify a vending micro market? When vending micro markets first were introduced they were often seen as alternatives to the employee cafeteria and operators required that a location have 300-400 employees before installing a vending micro market. As vending micro markets increased in popularity that number has dropped to 100 employees and on some occasions fewer than that!
Is traditional vending working for your company? Are your employees happy with the items they purchase from your current vending machines? If not contact Vending Needs for more information about how micro markets can work for you and your company!
MICROMARKET IN ACTION!


We are a member of the National Automatic Merchandising Association (NAMA) and we participate in their Fitpick program. This program involves the use of stickers to clearly indicate which items are healthier than others, allowing your employees to easily make healthier choices.

Micro markets provide healthier and more varied options for your employees. So why should you care? Because healthy and happy employees means fewer sick days, lower insurance costs and happier people. All of which result in greater productivity and a healthier business.
Though we're in the Garden State, we're not your garden variety vending company. See what Jersey's own Vending Needs can do for you. Call 1-800-843-3350 or e-mail info@vendingneeds.com to set up your free, no-obligation consultation.
We service the entire state of New Jersey including the surrounding cities of Parsippany, Princeton, Secaucus, Paramus, Somerset, Edison, Piscataway, Toms River, Hackensack, Freehold, Morristown, Trenton, and all of South Jersey!