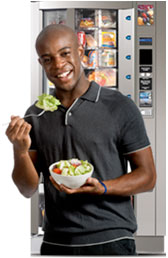 Food
Vending Machines New Jersey, Princeton, Toms River and Edison
Vending Needs - More than just snacks. Assuming your location is qualified to have food machines, we've got them available for you. As always, the vending machines are provided for free, and they can be stocked with frozen and fresh items, including freshly-made sandwiches, wraps, salads, burritos and frozen meals.

Our wide selection of items is completely customizable to your preferences. We even offer healthier fare...so even the most picky employees, customers and visitors are accommodated.

Food machines are ideal for any location, especially hospitals, schools and offices. Why consider a food machine for your office? It all comes down to productivity. The most productivity draining portion of the day is the time before and after lunch. Give people the option to stay on premise for lunch. They will take shorter lunches. There won't be the problem with "extended" lunches. And your employees will even thank you for it...appreciating the fact that you're helping provide convenience.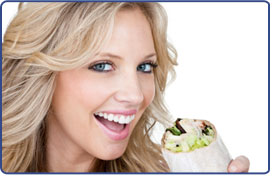 Go a step further with this benefit and offer subsidized vending. Pay for a portion of the items in your food machines, allowing your employees to spend less. It's an extra fringe benefit that surely won't go unnoticed.

All products are vended by clean, modern machines featuring state-of-the art technology, such as cashless transaction options. And if there's ever a problem with your machine, or your inventory, we offer fast, 24/7-service to keep you up and running.
Though we're in the Garden State, we're not your garden variety vending company. See what Jersey's own Vending Needs can do for you. Call 1-800-843-3350 or e-mail info@vendingneeds.com to set up your free, no-obligation consultation.
We service the entire state of New Jersey including the surrounding cities of Parsippany, Princeton, Secaucus, Paramus, Somerset, Edison, Piscataway, Toms River, Hackensack, Freehold, Morristown, Trenton, and all of South Jersey!